Indian weddings are known for their magnificence and extravagance. From breathtaking venues to mouth-watering delicacies, every aspect of an Indian wedding exudes luxury.
However, when it comes to wedding wear, Indian ethnic fashion takes the crown. Indian wedding wear is a testament to grandeur, elegance, and beauty that has captivated people worldwide.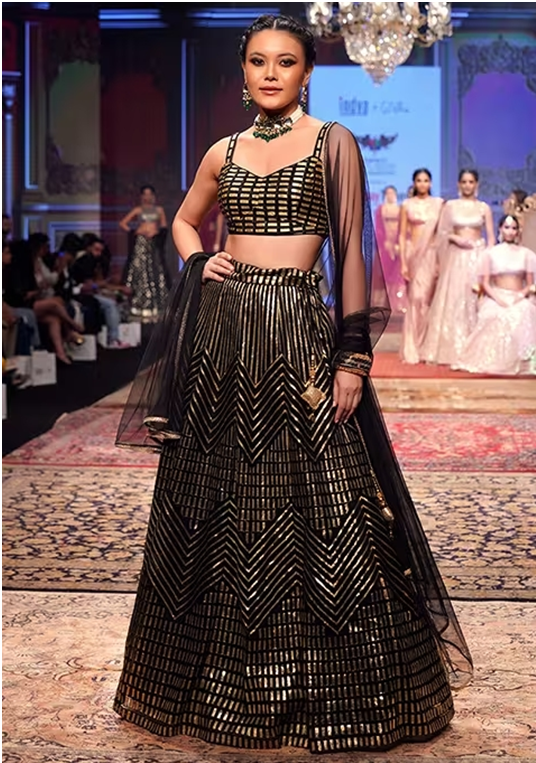 When we think of Indian wedding wear, the first thing that comes to mind is the stunning sarees and designer lehengas. These garments are made from luxurious fabrics like silk, chiffon, and georgette and adorned with intricate hand embroidery, beadwork, and embellishments. These ethnic wear outfits are designed to make the wearer feel like royalty, and they do just that!
One of the main aspects of Indian wedding wear is colour. In Indian culture, some colours have special significance. Red, for example, is considered a lucky and pious colour and is often worn by brides. Gold is another popular colour, as it symbolizes wealth and prosperity. Other popular colours for wedding wear include pink, blue, and green.
But in the recent past, a clear shift from bright and bold colours to pastels and unconventional hues can be seen. The modern Indian brides want to shine on their big days on their terms! And we are all hearts for it!!
Now, let's talk about the trending Indian wedding wear styles for guests and bridesmaids:
1. Designer Lehenga Choli
First on our list is evergreen Lehenga Choli. Designer lehengas online come in a range of styles and designs, from classic and elegant to trendy and edgy. This wedding season, experiment with fun lehenga skirts, dreamy ruffled lehengas, opulently embellished lehenga choli sets, and sassy sequinned lehenga blouse sets.
2. Whimsical Party Wear Sarees
Next on our wedding fashion list is Indian Sarees. Who needs convincing that sarees are the ultimate fashion ensemble? No one, right? Still many shy away from them because of the overwhelming draping techniques.
All thanks to Indian designers, our prayers have been answered in the form of stitched sarees!
Pre-stitched sarees come with stitched pleats and pallu and only require one minute to style. They are also known as ready-to-wear sarees or pre-draped sarees. So this wedding season, slay in effortless stitched sarees and let your inner diva shine. Think organza ruffled sarees, embroidered tiered pre-draped saree, sarees with attached belts, designer printed sarees, and high-slit pre-stitched sarees.
3. Elegant Anarkali Dresses and Suits
Anarkali Suit is a traditional Indian outfit that never ceases to amaze! It is a long flowy tunic mostly paired with a dupatta and churidar or palazzo pants. An Anarkali can be heavily embellished with embroidery, or it can be simple and elegant. It is a versatile outfit that can be worn for both daytime and evening weddings. Also, Anarkali gowns or dresses are the safest and trendiest ethnic wear you can wear to an Indian wedding.
That's why we say- when in doubt, Anarkali is the way out! You will never be over-or-under-dressed with a beautiful Anarkali suit or gown.
4. Cape Saree
The cape saree is another modern take on the traditional saree. It is a saree paired with a cape instead of a blouse. A cape saree is perfect for those who want to wear a saree but want to add a dramatic modern twist to their saree look.
5. Sharara Suit Sets:
A sharara suit is a three-piece outfit that consists of an ethnic crop top or kurta, flared pants, and a dupatta. Sharara pants are wide-legged and flowy bottom wear, oozing a dramatic and youthful vibe. Sharara suits come in different styles and designs, so it's crucial to experiment with different options to find the one that suits you, from traditional sharara suits with long kurtas to modern ones with crop tops.
Here's a pro tip for styling your ethnic wear like a fashionista:
When choosing jewellery and accessories to go with your Indian wedding wear, the possibilities are endless.
However, in addition to jewellery, several other accessories can elevate your Indian wedding wear ensemble. These include embroidered handbags, embellishedfringe clutches, embellished lace belts, mojaris, printed mules, sandals, and embroidered juttis. When choosing accessories, it's important to keep the overall look and details of the dress in mind. You want everything to work together seamlessly and blend well.